Valorie's adventures as a Realtor in east Idaho: Is that Honey Boo Boo's Mother?
---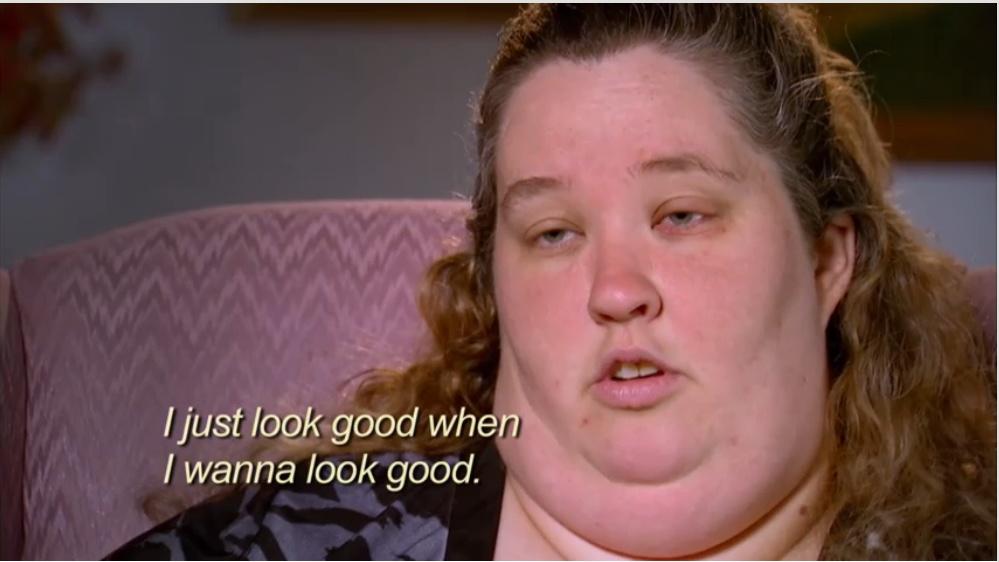 I probably shouldn't write this one, but it's too darn funny not to. So I'm showing a home one day with my clients when we drove up to the next home. It was just a normal showing and we didn't expect anything major about it.
As we pull up to the home, I saw two huge dogs in the front window. So I'm thinking to myself…wow, I'm gonna have to pull out my dog whisperer skills on this one. As I walked closer to the door, the dogs got louder and louder. I didn't want to show any sense of fear, but they were seriously gonna bite off a leg, arm or anything that comes even close.
Just as I was looking through the window face to face with these two angry Bohemian Mammoths, I hear "Hey, whatcha think you're doing over there". Turning around to look, I run face to face with a woman that bore a striking resemblance to "Honey Boo Boo's Mother". Making a double take just to make sure…yup! Looks just like her. Or "HBB" as I refer to her now.
I gasped and somehow managed to spit out the normal realtor talk… "Hi, I'm a realtor and we are trying to look at this home that's for sale, but I wasn't expecting two huge dogs in the house." HBB didn't miss a beat. She piped up and said, "Well I've been watching them dogs. I can let you in. I'll just lock the dogs in the bathroom."
Ok, here's where things get a little crazy. Just as HBB went to unlock the house, a young girl came running across the street crying and screaming "I need a phone, does anyone have a phone." She had on a very small tank top and a pair of small jeans shorts, a baby with only a diaper on in one arm, and a cigarette in the other.
So what do you do, right!?! I said, well you can use mine. So she grabs my phone and commences to call her mom. She had told her mom that she needed a ride because her roommate was fighting with her and then kicked her out of the apartment again. Her mom chose this to be a "Tough Love" moment and basically told her that she better pull her head out! (ok, that was not exactly how it went, but you get the idea). The girl handed the phone back to me and just screamed… "I wish someone would just love me!". All I can think is "Please, can we just see the house now?"
Finally, here comes HBB! The dogs were locked up and here were go. Once inside we quickly determine that this is NOT the house for my clients. However, HBB has put on her realtor hat and is so insistent that we see the whole home. Oh…please just kill me now.
My poor clients finally get out of the house and go around the corner when….HBB pulls me aside and says "You know why they want to sell this house? Cause the owners wife parked her car right here in front of the house and overnight, someone shot all four tires with a gun". I smiled and said thanks for the info as I quickly turned and walked toward my clients.
I walked straight past them and said…. JUST GET IN THE CAR AND DRIVE… JUST GET IN THE CAR, WE'LL TALK LATER!
We may run into a few crazy adventures, but by the time I'm done you will be in the home of your dreams! So when you are shopping for a home in eastern Idaho or selling a home in eastern Idaho? If you need a realtor in eastern Idaho. Just call Valorie or take a gander at valorieslist.com. It's the list that MOVES you!